Pago de Santa Cruz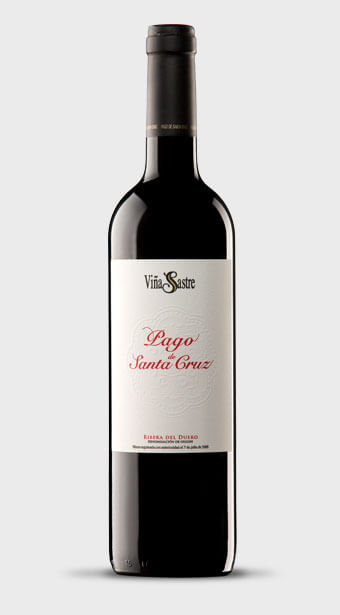 TECHNICAL DATA
LOCATION: PAGO DE SANTA CRUZ, LA HORRA, BURGOS
ALTITUDE: 840 M. ABOVE SEA LEVEL
TERRAIN: SLOPES OVER THE RIVER DUERO AND GROMEJÓN
SOIL TYPE: CLAY-CALCAREOUS
TYPE OF WEATHER: MEDITERRANEAN CLIMATE WHOSE MAIN FEATURE IS ITS CONTINENTAL NATURE
HARVEST TYPE: MANUAL IN 12 KG BOXES (DOUBLE SELECTION OF BUNCHES; FIRST IN THE VINEYARD AND LATER IN THE WINERY ON THE SELECTION TABLE)
TYPES OF GRAPES: 100% TINTA DEL PAÍS
AVERAGE AGE OF THE VINEYARD: 80 YEARS
PLANTING DENSITY: 2,500 FEET PER HECTARE
TRAINING TYPE: GOBLET
PRODUCTION PER VINE: FROM 700 G. TO 1,000 G.
IRRIGATION: NO
CROP: ARTISAN, NO MINERAL FERTILIZERS, HERBICIDES, OR INSECTICIDES ADDED
AGING: 18 MONTHS
OAK TYPE: AMERICAN 100% NEW
RACKING: FOUR
APPROXIMATE PRODUCTION: 12,000 BOTTLES AND 400 MAGNUM
TASTING NOTES
This wine has an intense and beautiful cherry red color, with violet tones.
On the nose it is very complex and persistent, highlighting the maturity of the grape with aromas of red fruits in liquor, spiced (nutmeg), fennel, violet, in good harmony with the wood (vanilla, coconut, cinnamon).
On the palate, tasty, well-composed in body with lively tannins, broad and very long, which predicts a long life.